Boothill homes are located in the Pinebrook area of Park City. Houses and properties for sale within Boothill are listed below and updated daily from the Park City MLS.
Contact KWPC for the best information on Boothill.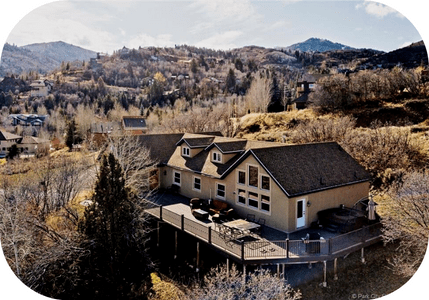 The Boothill Homes are a fantastic option for those looking for a private mountain home. These homes range in design, with older homes, to renovated homes, and new builds all sitting atop the gorgeous hills of Pinebrook.
Boothill Homes boast of a variety of designs, with a mix of traditional and contemporary styles, and offer a great variety of floor plans to choose from. With ample living spaces, these homes are perfect for families, offering plenty of room to relax, entertain, and enjoy all that Park City has to offer. Many of the homes in this area offer large windows that provide natural light and beautiful mountain views.
The Pinebrook area of Park City, where Boothill Homes are located, is a nature lover's paradise. The area is known for its hiking and biking trails as well as skiing opportunities, making it the perfect place for families and adventure enthusiasts. Hiking and biking trails are located in the mountains right outside your door, and the closest ski destinations are at either Woodward just down the road, or The Canyons Resort which lies 5 minutes to the south. The proximity of the homes to the recreational activities in the area, make it a great choice for those looking to escape the hustle and bustle of the city and enjoy a laid-back mountain lifestyle.
Boothill Homes in the Pinebrook area of Park City are currently for sale, and are a great opportunity for those looking for a spacious, luxurious and nature-friendly mountain home. With its prime location, ample living space and proximity to outdoor activities like hiking and skiing, these homes are the perfect place to call home.
Below you can view all the listings available in Boothill. If you find one that interests you, just click to find more information, view picture galleries, and get in touch with one of our outstanding KW agents!
PropertyPress IDX Grid Widget
PropertyPress IDX Grid Widget
Boothill
Brook Hollow Village
Cedar Ridge
Courtyards at Quarry Village
Discovery Ridge
Eagle Ridge
Ecker Hill
Elk Run Townhomes
Horsethief Canyon Townhomes
High Meadows at Pinebrook
Kilby Road
Pine Creek Condos
Pinebrook Cottages
Pinebrook Pointe
Pineridge
Sunridge